Is your BDC
suffering

from sales atrophy?

Kimoby's marketing campaign capabilities automate your BDC's manual processes, help get more customers through the door—and stop service sales from tanking.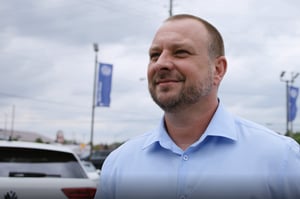 Does your BDC team have a hard time reaching lost souls and even current customers? Is your customer database gathering dust, with entries spanning all the way back to the Dark Ages?
Spending a fortune on sending letters or worst telemarketing activities that generate Meh results? It's time to automate your BDC initiatives with Kimoby and drive people into your dealership.
Regain control of your outbound marketing. Elevate your BDC's sales effectiveness.
Recurring maintenance and other service appointments
Ahead appointments and fully booked calendar before any seasonal changes
Special events invitations and limited-time offer send-out
Faster and more successful service-to-sales liaisons for customers at the end of their leases or warranties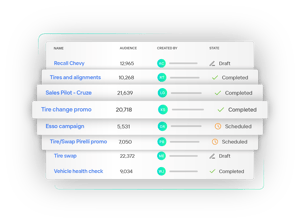 Reduce manual work and costs per lead. Automate campaigns that impact your dealership.
Sync Kimoby with your DMS, clean up your BDC's contact list for good and use valuable data for personalized and targeted messages
Encourage the completion of satisfaction surveys and online reviews
Substantially increase the number of ROs and average RO value
Promote customer retention for new car sales
Facilitate F&I efforts and maximize closings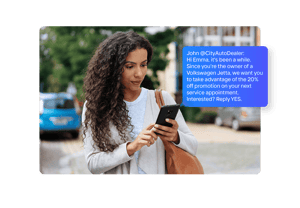 Streamline recalls and VIN matching. Improve customer response rates.
Effortlessly match VINs and customer information; simply import your list and let Kimoby do all the heavy lifting to make the matches
Send out thousands of recall campaigns via text message in a matter of seconds
Get quick responses from customers and a never seen before higher level of booked appointments (watch your CSI and ROI fly through the roof)
Order just the right amount of parts for upcoming repairs - and accelerate inventory turnover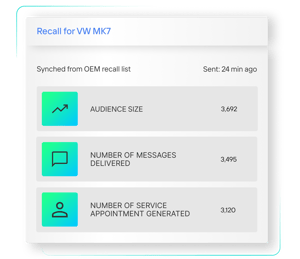 Is your BDC achieving these results?
$30K in revenues
With the right tools and processes, BDC's can generate these types of results with any promo, recall and marketing campaigns.
Kimoby's automation saves our BDC manager a solid 2 hours daily.

Our staff can do high-value tasks instead.
Jim Challes
Fixed Operations Manager, Seaside Chevrolet
See the difference.
Then experience it.
Contact us today for a free, no-obligation assessment of your dealership's current processes and how Kimoby's two-way instant messaging can help.