Two-way texting and communication
Effortlessly connect

with your customers

Kimoby's two-way text messaging eliminates the headaches of trying to reach customers and getting the answers you need—lightning fast.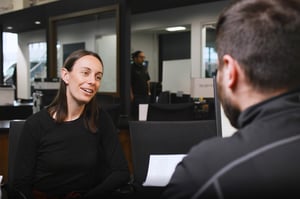 Struggling with low customer response rates? Fed up with your employees being glued to phones without any luck connecting with customers? Racking your brain to improve customer engagement?
Kimoby's two-way text messaging solution simplifies how you communicate with customers and deliver a stellar, professional customer experience.
Stop playing phone tag. Connect with customers instantly.
Appointment confirmations and reminders
Multi-point inspections and repair approvals with images and videos
Recall and maintenance notifications with VIN matching
Upselling value-added vehicle services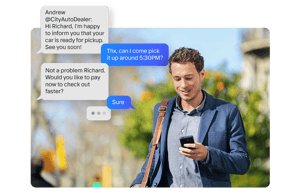 Centralize all customer communications. Boost staff efficiency and collaboration.
Stop double data entry and automate manual tasks with seamless DMS integration
Send out personalized and targeted messages based on real-time customer data
Assign senior advisors to more important, customer-facing tasks
Increase service capacity and cater to a broader clientele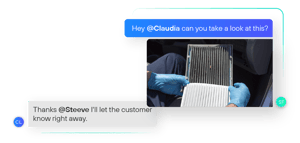 Kickstart your performance scores with OEMs.
Reduce overhead needs in a tight labor market
Eliminate the costs of ineffective call centers
Substantially increase the number of ROs and average RO value
Achieve a higher CSI without added work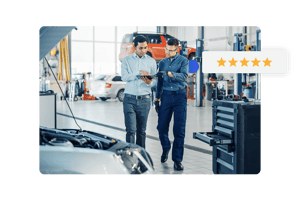 Can a phone call
do this?
90%
of texts are read within 3 minutes. Response times are 90 seconds.
Our service team used to spend days reaching out to hundreds of customers for recalls.
With Kimoby, they now achieve that in minutes.
Jack Lai
General Manager, Brian Jessel BMW
See the difference.
Then experience it.
Contact us today for a free, no-obligation assessment of your dealership's current processes and how Kimoby's two-way instant messaging can help.