Streamline your appointment management
Turn your appointment processes into a well-oiled machine that reduces no-shows and connects you with customers instantly. Your customers will value the quick notifications, and your team will appreciate the convenience. Here are three simple and effective automations we recommend you add to enhance your appointment workflow.
1. Confirm appointments
Start your appointment workflow by automatically confirming appointments as soon as they're booked. This way, your customers will receive an immediate text message right on their mobile phones including the appointment details, such as the date and time. This handy confirmation can be referred back to at any time, reducing confusion and improving the overall experience.
3. Notify about missed appointments
Missed appointments don't have to mean lost revenue. An automated message sent two hours after a missed appointment can help keep your dealership at the forefront of your customer's mind and provide a quick, convenient way for them to reschedule.
Up next: check-ins
With your appointment workflow now smoothly automated, you've reduced no-shows and phone calls. But why stop there? Enhance your pre-repair efficiency by introducing advisors through text for direct customer communication, and centralize your damage reporting from inspections.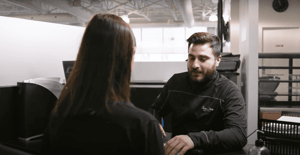 See the difference. Then experience it
Contact us today for a free, no-obligation assessment of your dealership's current processes and how Kimoby's two-way instant messaging can help.