Take charge of your customer satisfaction
With automatic text message surveys, you'll get valuable insights from your customers in no time flat. Spot unhappy customers before they answer the CSI survey, fix issues fast, and watch your CSI scores climb. And when the reviews are raving? Use them as your secret weapon to boost your online reputation. Let's dive into our two recommendations that make this a reality.
1. Automate satisfaction follow-ups
Start by sending an automated text message survey 24 hours after an appointment. This allows you to gain real-time insights into customer sentiment and receive instant notifications about negative feedback. By identifying detractors and promptly addressing any issues, you can ensure swift resolution before they respond to the manufacturer CSI survey. This proactive approach not only helps in retaining customers but also in improving your CSI score. According to the National Automobile Dealers Association (NADA), just a one-point rise in your CSI score could translate to an annual revenue increase of $300,000.
2. Automate online review requests
Don't let the opportunity of leveraging your promoters pass you by—boost your online reputation with minimal effort. When the satisfaction survey pinpoints those satisfied customers, the ones who rate you an 8 or higher, Kimoby automatically prompts them to leave a review on Google or Facebook. This doesn't just bolster your online presence with positive reviews, it turns your happiest customers into advocates, bringing in even more business.
Up next: retargeting
You've mastered customer satisfaction and built an online reputation that turns heads. Ready to take the next leap? Drive repeat business and boost your RO values with marketing campaigns. Let's get you more customers through the door.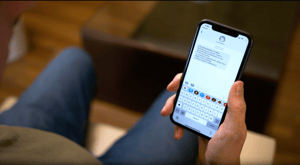 See the difference. Then experience it
Contact us today for a free, no-obligation assessment of your dealership's current processes and how Kimoby's two-way instant messaging can help.